SMS messaging is still one of the most-loved features of smartphones. It's also one of the most engaging when it comes to interacting with customers because smartphones are ubiquitous. You have the power to send a text advertisement to your top customers. Despite flashier app development and advanced features, SMS technology has endured. Here are 16 essential SMS marketing tips and examples to help you create a high-quality, high-return mobile marketing strategy. Combined with SMS, rich media messaging (RMM) can take marketing campaigns to the next level.
1. SMS Marketing Tips: Ask for Permission
Asking for permission isn't mandatory, but it's better for you. Instead of creating campaigns that recipients never read, you'll spend time nurturing relationships with customers who want to receive notifications.
As the first and last thing many people look at during their waking hours, smartphones are seen as personal space. You should take care to get explicit permission before marketing to customers via your SMS marketing efforts.
You can get this permission two main ways:
Create campaign collateral by asking customers to text an opt-in keyword to a short code, for example, "Text YES to 12345 to receive exclusive promotions!"
Ask customers to check an opt-in box — similar to opting in to receive an e-newsletter — when they check out, request information, or sign up for another service on your website.
Include the following three sections when you send messages:
Expectations. Tell customers upfront how frequently you plan to send messages and what kind of content recipients will receive.
Opt-out option. Make sure that it's always clear how your customers can stop receiving SMS marketing messages from you.
Call to action (CTA). Each message should include a brief message and a CTA that encourages customers to act. For example, "Click here to confirm enrollment."
Learn how to collect phone numbers: 8 Ways to Collect Phone Numbers for Your Rich Media Messaging Campaigns
2. Identify Optimal Delivery Times
After you let recipients know how many messages to expect from you when they sign up, be thoughtful with your delivery. It's important to message customers regularly so that you remain top of mind, but you don't want to send at times when you'll be ignored or, worse, at times when you'll annoy them.
Start small with four to five messages per month for the first month or two. Send your strongest content first so that, with this strategy, recipients look forward to seeing more of your messages. Then ramp up to 10 messages a month.
Timing your messages also gives you an opportunity to test different messaging types for future campaign improvements, for example, test if it's beneficial to send surveys early in the customer lifecycle or later.
VoiceSage users can set up drip campaigns that deliver a series of messages at specific times. You don't have to manually schedule messages; instead, you can create all of the messages at once and schedule them to send automatically. The campaign is triggered when a customer completes a specific action. Create a drip campaign for when new customers buy something or sign up for a new service. Make sure each message delivers value to avoid customers unsubscribing from your list. For example,
Share more details about your business.
Invite customers to follow you on social media.
Share links to popular blog posts or resource pages.
Share a special introductory offer.
3. SMS Marketing Tips: Experiment with Timed Delivery
Even though your customers have their phones next to them nearly 24/7, they don't want to receive disruptive messages during meals, holidays, or in the middle of the night. Sending messages at the right time ensures customers open and read them. Timing also creates a positive customer experience since messages are sent at convenient times.
Additionally, test your campaign success using metrics, such as open rates and click-through rates, to identify your top customers and regions. Use your market, location, and user data to tailor message delivery times. Send messages based on the specific area or time zone your customers live in, so your offers get to them when they're most receptive. The best time to send mobile messages is generally between the hours of noon and 3 p.m.
4. Personalize Your Messages
SMS marketing gives your company a unique opportunity to truly personalize messaging and connect with customers one-on-one via text. Take advantage of this by ensuring your recipients feel like a special contact, not just another line on a mailing list. Customers prefer to receive personalized messages and are more likely to move through the sales funnel when they do.
Three ways to incorporate personalization in your SMS marketing:
Include the customer name in text messages — only use the first name to keep messages informal
Mention customer activity — like a recent purchase, a shipping update, or an appointment reminder
Customize messaging to cater to their geographic location — include a reference to local weather or sports teams
Take personalization further and segment your customer list so that only certain customers receive relevant messages. For example, you could send promos exclusively to customers who purchased from a group of products, like shoes. Or to customers who bought a specific product, like purple-striped shoes.
Try these text message templates in your next campaign: 19 Text Message Templates for Customer Service & Marketing Pros
5. SMS Marketing Tips: Make the Value Clear
Just sending a message isn't enough. Recipients must see value in your message — either in the information you present or in the offer they receive — if you expect them to act on the promotion.
To create campaigns that your customers will interact with beyond the open, try:
Creating coupons and offers unique to your SMS marketing list
Targeting offers based on customer segments and behaviors (in turn, making the campaign more personal)
Switching up your offers to add variety and avoid stagnation or boredom with your campaign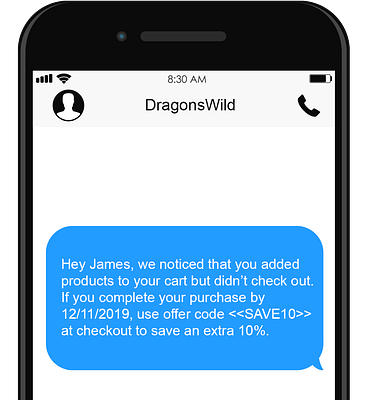 6. Include Your Location
Including your location connects you with your customer base while also giving you a sense of legitimacy and giving them something to identify with. If you don't operate a brick-and-mortar space, include a short URL to your website in SMS messages.
If you have a brick-and-mortar store, send customers a targeted message when they're close by. Proximity marketing is a direct form of marketing where messages encourage customers to enter the store, bank, etc.
Learn more about how proximity marketing works: How to Use Proximity Marketing to Improve Customer Engagement
7. Integrate Rich Media into Your Campaigns
Mobile messaging includes more than just plain text. It's now possible to get the engagement rates of text messaging while providing customers with the experience of an app or email campaign. By using VoiceSage, you can set up mobile landing pages with all the features of an email or web page and integrate them into your SMS campaigns — without the need for in-house development.
Brands considering Rich Communication Services (RCS) can start with Rich Media Messaging to experience the benefits. Unlike RCS messages that require mobile carriers to provide service, with VoiceSage, you can send rich media messages to any customer on any mobile device.
The following example shows a survey shared using rich media.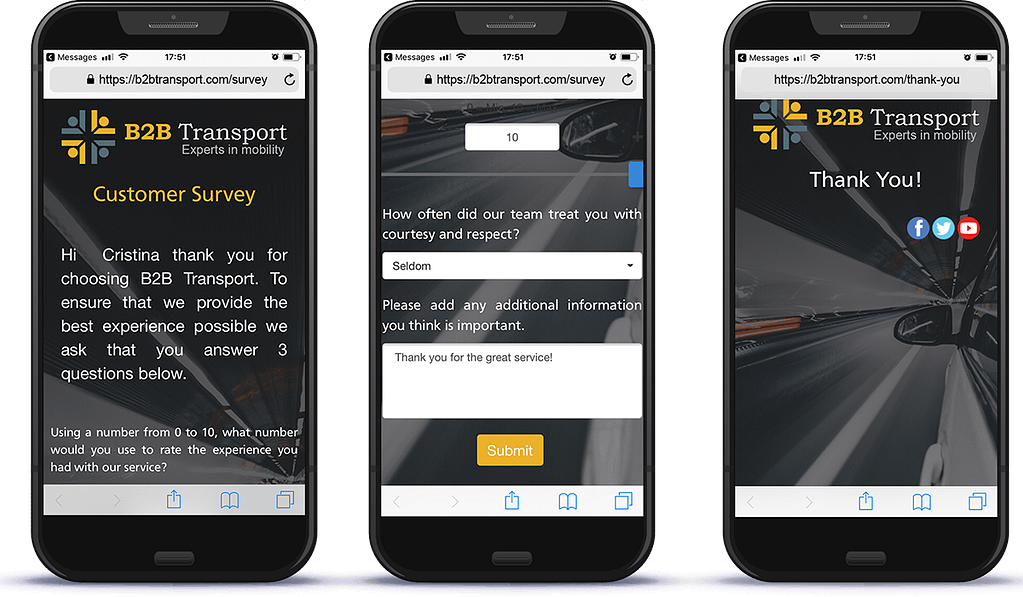 Rich media messages can also be used to share appointment scheduling and payment processing.
Improve the customer experience, engagement, and click-through rate by sending media like video, images, GIFs, and more via mobile messaging. RMM allows for more flexibility in the types of messages sent.
Retailers can send product images or coupon GIFs.
Retailers can send delivery notifications.
Retailers can send abandoned cart reminders.
Utility companies can send bill payment reminders and late payment notices.
Banks can send payment reminders that link directly to a payment gateway.
Businesses can send interactive surveys.
Businesses can send event invitations and reminders.
Learn more about the benefits RMM offers: What's Your RCS Fallback? Choose Rich Media Messaging (RMM) instead of SMS
8. SMS Marketing Tips: Lead with Your Offer
With only 160 characters to get your customers' attention, make sure the most interesting part of the message, your stellar offer, sits up front.
SMS messages don't have subject lines, so by pushing your offer to the top of the message, recipients quickly see the selling point. Even before they open the message, customers can see the offer when previewing the first few words of the message on their phone.
Over 90% of text messages are opened within three minutes of being received. Don't waste the opportunity to convert customers by burying the offer below lots of text.
Among recipients of SMS marketing campaigns:
Make your offer even more appealing by incorporating social proof. Share customer reviews and testimonials to encourage customers to take action.
With RMM, you can even share video testimonials.
Use these templates to craft the perfect message: 19 Text Message Templates for Customer Service & Marketing Pros
9. Incorporate Branding
16 million text messages are sent across the globe every minute, which means your customers are constantly receiving messages. It's vital that your brand is immediately recognizable, so it stands out from other messages. Include your logo and brand name in every message to build brand awareness. It drives repeat sales, retains customers, and keeps you top of mind.
Also, be consistent with your branding. Use a template. Keep the same colors, fonts, and images across your website, emails, and RMMs. VoiceSage's campaign builder can help.
10. Make Messages Feel Exclusive (Even if They're Not)
Consumers respond best when they feel they're given an inside tip or deal on something they've been on the fence about buying.
Take advantage of this by creating a sense of exclusivity around your offers. Even if these deals aren't as exclusive as they seem, send them to your SMS marketing list.
Make your customers feel like a member of a "lucky few" by:
Branding your SMS marketing campaign as a VIP Member Campaign
Mentioning customers by name and giving them an offer as thanks for their loyalty to your brand
Sending new customers coupons and offers that are "for new members only"
11. SMS Marketing Tips: Make Messages Urgent
Creating a sense of urgency motivates your customers to take advantage of deals before they expire. Capitalize on your customers' fear of missing out by creating a sense of scarcity in your campaigns and include phrases like:
Limited time offer
While supplies last
Today only
One-time only
12. Include a Strong Call to Action
Don't send out messages just for the sake of it; make sure that each and every message you send to customers includes a strong CTA. The best CTAs excite your audience because they motivate customers to take action. For example, give customers a way to take advantage of promotions or confirm appointments as a way to move along your conversion funnel.
Some sample SMS messages for marketing: 6 Direct Marketing Examples for Text Message Campaigns
Take advantage of this deal today!
Confirm your appointment today!
Leave us a review for a chance to win an exclusive prize!
Include the following best practices to encourage customers to click on CTAs:
Use language that's directive and urgent. Steer away from overused CTAs like "Download," "Sign Up," and "Join."
Use bold colors for CTAs in RMMs. Choose a color that contrasts with your brand colors to make the CTA stand out from the rest of the message. You want to make it clear to customers what you expect them to do.
Keep them short. CTA buttons are small, so get to the point
VoiceSage lets users create custom message templates and test different CTAs. Once you find which CTAs result in the highest click-through rate, use them based on message type. For example, use "Get started for free" if you're promoting a service, and use "Start saving today" if you're introducing a new rewards program.
13. Use Customer Data to Enhance Messaging
SMS marketing gives you access to information and data about your customers that's almost unparalleled by any other marketing medium.
You're able to collect information about their demographics, site preferences, and mobile use responsiveness, and given a near-immediate group to A/B test different promotion and marketing techniques. An SMS analytics platform is essential for this. VoiceSage has a reporting dashboard that lets users analyze message performance.
Use the data you collect to improve promotional messages and inform your campaigns as this data changes over time. For example, to increase conversions:
Focus on sending time-sensitive promotional SMS campaigns if customers open them quicker than others.
Adjust your delivery time if you see that most of your customers respond to messages in the morning instead of the afternoon.
The data you collect also gives you insights into which customer segments are most engaged, which types of messages have the highest CTR, and whether SMS or RMM performs best for different kinds of campaigns.
14. Keep It Conversational
Smartphone users are used to more casual, abbreviated writing in texts compared to other, longer-form mediums.
Avoid coming off as too dry and generic by using appropriate abbreviations (i.e., txt vs. text, save $$$ vs. save money) and embrace a more playful, conversational tone with:
The occasional image or GIF
Common messaging abbreviations
Quick, easy-to-remember jokes
Trivia for coupons or prizes
A customer's text inbox is a very personal space, so craft messages that are similar to others they receive. Reserve formal language for your website or other types of communication, like email marketing.
15. SMS Marketing Tips: Open up Two-Way Conversations
As the preferred correspondence method for a growing number of customers, SMS presents endless possibilities for how it can work for your company.
Beyond the various types of messages you can send to your customers — like appointment reminders, surveys, and promotions — open up communications. Let your customers interact with you with their questions, comments, orders, and availability.
By allowing customers to ask questions and get support via text,
Companies can solve the issue of 32 percent of people hanging up as soon as they're put on hold.
Customers have a more pleasant customer service experience.
Customers can communicate when it's convenient for them and receive custom, personalized support.
Customer service teams have a better understanding of what customer needs and pain points are.
Conversational marketing also helps you learn more about your customers. Use this information to improve messaging campaigns and product offerings.
Learn more about how to reduce inbound calls: The Secret to Reducing Avoidable Inbound Calls to Customer Service Teams
16. Keep Your Messaging Efforts Consistent
Once you establish a strategy, stick to it unless metrics say otherwise. A consistent tone, message type, and schedule will seem less intrusive to your recipients and increase the favorability of your brand.
Every month, create a content calendar that includes what messages will be sent and when. Planning content ahead of time helps you create a constant stream of messages and respond to customer needs. Regular communication also keeps customers engaged, informed, and expectant.
Bonus SMS Marketing Tips: Integrate with Omnichannel Efforts
Using VoiceSage's suite of valuable SMS marketing and outbound customer communication services, you can weave your SMS marketing strategy into your broader marketing and customer communications plan. With our cloud-based messaging products and services – delivering more than 2 million messages per day – we provide transformational interactive customer communications solutions for high-volume contact activities.
Omnichannel marketing lets you connect with customers in all the places they spend time. There's a better chance of moving customers through the sales funnel if they see your messages in different places. Your omnichannel campaign can include mobile messaging with SMS and RMM, social media, and email.
Schedule a demo today to learn more about the VoiceSage platform.
Published on: 16th August 2018