As an ecommerce seller, you might see someone click through an ad or social post and clock that as a win. But if there's no follow-through, you'll lose them. The buying and selling process is a journey, and each stage is designed to help you understand your customers better. If customers view your interactions only as transactions, you'll probably never see them again. An ecommerce customer journey map can help you find the weaknesses in your funnel and shore up your process so you keep customers around long enough to become brand loyalists.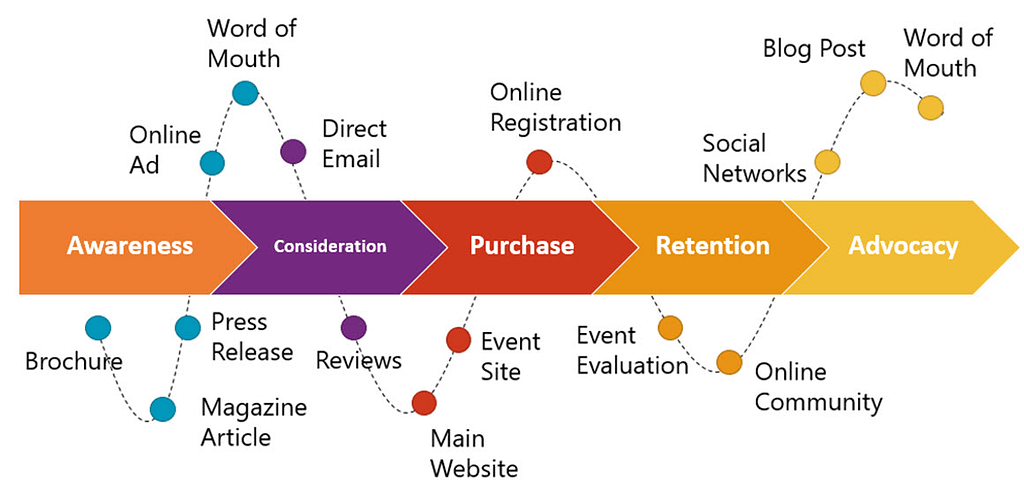 [Source]
Inefficiencies in the journey, such as slow response times, friction-filled purchase processes, and poor engagement, can hurt your business. If these gaps in efficiency aren't dealt with, customers won't get the full value of your goods and services. People will drop off your radar either before they buy something or shortly after their purchase, without ever buying again.
Let's look at what causes these inefficiencies at each stage of the customer journey, why they matter, and what you can do to be more successful.
Quick response times create a great first impression
Awareness and consideration are the first stages of the ecommerce customer journey and are crucial to adding people to your sales funnel. Shoppers are reading reviews and testimonials and comparing their experience with you to their experiences with other companies. A quick response time leaves a lasting positive impression.
With the growth of digital connectivity, customers expect an immediate response to their questions and concerns. In fact, a recent study by HubSpot found that "82% of customers rate an 'immediate' response as important or very important when they have a marketing or sales question." According to survey respondents, "immediate" is typically a response time that's 10 minutes or less.
Think about a shopper who has just found your product page through an ad. It looks like your product will meet their needs and solve a problem, but they have a question about one of the features. If this shopper sends an email to customer support, but it takes hours or even days to get an answer, the shopper is going to move on to the competition. If this happens, your sales suffer, and it gets harder to grow your business.
Quick response times improve your revenue potential by moving shoppers to the next stage of your sales funnel instead of losing them before they experience the value you promised.
How to fix this gap
Response time has a direct effect on customer experience. Run tests to track how long it takes customer support to respond to different types of questions (survey customers on their experience, and track customer service reports). If response times are longer than expected, what's causing the bottlenecks? Ask yourself questions, such as the following:
Does your customer support team have the information they need to answer questions?
What other responsibilities does customer support have in addition to answering customer questions?
What types of questions do shoppers ask?
Is your team large enough?
Based on the data you collect, create a system that outlines how quickly it should take to respond to different kinds of questions. Whether people are sending questions through your website, social, or live chat, set the expectation of how long it'll take to get a response so that your team knows what's expected. Share this with customers. For example, if SMS is one of your main channels of communication with customers, when you receive a new message, send back an initial response confirming that you've received the question and will respond in the next five minutes.
Bohemian Guitars, a manufacturer of custom, handcrafted guitars, added a widget to their mobile site that invites shoppers to ask questions:
[Source]
What's unique about this approach is that customers can text directly with customer support. Shoppers get information immediately and enjoy the personalized feel—it's like live chat, but it has the feel of a text message. Customers appreciated this feature so much that Bohemian Guitars saw a 98% increase in sales in just six months.
A smooth checkout process speeds up conversion and improves the ecommerce customer journey
The next stage of the ecommerce customer journey is conversion. This part of the journey is crucial because it deepens the customer relationship. This is also where leads decide that your products are the best fit for their needs so they buy something. The quicker people get to this point—with fewer barriers—the better.
Barriers can include high shipping costs or unexpected upsell requests during the purchase process that slow down checkout. These barriers are dangerous for your business because they scare away potential customers and limit your revenue and growth potential. Not addressing this gap in your ecommerce customer journey also increases the cost to acquire new customers.
Let's say it costs you £200 to run Facebook ads that end up generating lots of traffic to your site. If 100 leads convert and buy, it only costs you £2 to acquire each new customer. If the checkout process is slow or complicated, and only 20 people complete checkout, not only are your sales lower, but the cost to acquire these customers is much higher, too, at £10.
How to fix this gap
Simplify your checkout process to include only a summary of what's been added to the cart, and the fields for contact, payment, and shipping information.
To encourage people to buy so they get to the checkout page, offer incentives. Based on what you know about your customers, offer incentives that cater to their preferences. For example, offer a flexible return policy if you sell personal items like clothes that people might want to return or exchange, or offer a promotional discount if saving money is important to your audience.
To encourage shoppers to buy something, Marks and Spencer offers three incentives: free delivery, in-store pickup, and a 35-day return policy:
This information is displayed on the homepage, so as shoppers scroll down the page, it's clear why they should buy from M&S. What's also great about how this approach is the additional information shared along with each incentive. This site includes more information to improve the customer experience and make sure customers get what they expect. For example, shoppers can get more details about shipping and delivery so that there are no surprises during checkout:
Checkout is a breeze because the payment page is simple and the cost of shipping is anticipated:
Enhance the ecommerce customer journey with referral programs to boost retention
It's not enough to spend most of your marketing energy acquiring new customers and leaving them to fend for themselves once they've bought something. You need to engage with customers to keep them coming back. According to Groove, a customer support platform, "If your customers stop hearing from you, and you stop helping them get value from your product throughout their entire lifecycle, then you risk making that lifecycle much, much shorter."
Studies show that retained customers offer a higher lifetime value (LTV)—income generated from each customer for as long as they're a customer—than new customers. Additional research also shows that "increasing retention rates by 5% increases profits by 25-95%."
High retention helps to drive customer acquisition more organically with the help of referral programs and other incentives. To get customers to share about you, you need to engage with them and remind them of the value you offer and the increased benefits they can get by sharing their experience with other people.
Eighty-three percent of satisfied customers say they're willing to share referrals with their network or friends and family. However, only 29% actually follow through. Engaging with your customers through optichannel campaigns is what drives more people to share.
Improve your customer service: How to Manage Customer Support With Rich Media Content
How to fix this gap
Clothing retailers like Missguided offer customers a referral program:
To make sure they stay top of mind for their customers, ecommerce businesses like Missguided can use SMS and rich media messaging (RMM) to keep their customers updated about the programs.
Ecommerce brands can also use mobile messaging to:
let customers know when an order is delivered;
send surveys to customers to understand needs and expectations; and
send promotional codes based on product preferences.
You can go even further with engagement and use an email campaign to personalize the customer experience by sending relevant information like new blog content, invites to upcoming events, special offers, and more. Customers want to hear from retailers they do business with, so send them information that's in line with their preferences.
Learn more about order fulfilment: Ecommerce Order Fulfilment: 5 Mistakes to Avoid
Create an airtight ecommerce customer journey
Let's face it, you're in business to make money. And with more ecommerce businesses popping up, the competition is fiercer than ever. Take the time to find where gaps exist in your ecommerce customer journey so that movement through it is as frictionless as possible.
The easier it is for customers to move forward, the better your chances of closing more sales and holding onto customers for a long time.
To find out how VoiceSage can help you fix gaps in your ecommerce customer journey map and improve CX, book a demo today.
Published on: 12th April 2019